the weekend was absolutely wonderful (not only because i won, but also because the weather was brilliant, the hosts/organisation were superb, the course was great,…). i'm still putting everything together, but i'd just like to thank everyone at velocite, that was only minorly involved with the organisation of the suicmc07, it was great!
yesterday we had an afterparty in pully, including a jaccuzzi by jaccuzzi.ch and some lake jumping.
the image below is ändu having a nice flight into the lac léman.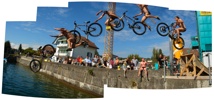 the rest of my images can be found on flickr, some more images from all around the swiss courier scene can be found via the tag suicmc07 or in the suicmc-set of florian cella.