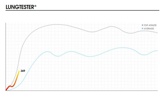 do you want to see how your lung capacity compares to top athletes? for the first time it's now possible to test your lung directly on the internet through a nifty new algorithm. you can take the free lung test here.

the screenshot on the left shows my capacity at the start of the test (i was better when i didn't press command-shift-4…).
let me know in the comments how you did!
[via ehrensenf]
technorati tags: flash, lung, lungtester, test