as mentioned before, i also shot two panoramas from the watch-tower yesterday. because i'm on holiday preparation, i found some time to stitch them with the excellent hugin [1].

both panoramas below were shot hand-held, without a tripod and without aperture-control (i need that with my next camera…). the original images were resized to 1024*768 pixels to prevent harddisk-bloat, and then stitched.

with the free program make cubic they were assembled into a QTVR. click on the thumbnails below, wait until the movies are loaded (beware: they're both quite big!) and then click/drag around with your mouse.
here's the one i shot from the center of the tower:



(1.7mb .mov)

this image was quite tricky to assemble, mostly because of the distortion of the wooden beams in contrast to the not distorted heaven. maybe i should start carrying a tripod around…
and here's the one i shot from the handrail: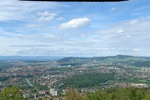 (1.8mb .mov)

this image was assembled fully automatic using autopano-sift, hugin and makecubic. no intervention from me except clicking some buttons and dragging a file to the dock. nifty, innit?
if you'd like to see the pictures as jpg, then you can see them on flickr. both images are available in full glory, be it either 7153 x 681 (from the center) or 7040 x 694 (from the handrail) pixels big.
[1] if you load the page, you might see some panoramas from me as the head banner….