this weekend we had the berner schwimmtage, a two-day swimming event, including the sprintnight, which was absolutely fabulous (see some more pictures here or here). chantal cavin [1] swam a new world record for disabled swimmers, a lot of swimmers swam new meeting records and even more swam new personal records [2].

besides coaching my team i also found time to shoot a quick and dirty panorama of the indoor pool hirschengraben. it's a shot i stitched from 12 images i took freehand on the gallery of the pool, stitched with hugin and converted to a qtvr using makecubic. so, if you click on the thumbnail below you should get a 1.8mb big .mov-file in which you can zoom and pan around [3]. if you prefer a flat image, then you should step over to flickr and look at the panorama as a .jpg.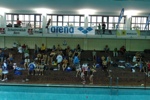 [1] read a report of our blind swimmer here (90kb .pdf) or in the latest coop zeitung

[2] like me: i pushed my record on 100m crawl down to 1:04.44 (not too shabby for one training a week…)

[3] shift and crtl are your friends on a mac.