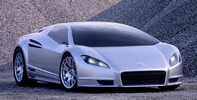 today the newest wired arrived. as always, when scanning it for worthwhile stuff to read, my eyes get caught on the "fetish" page. nope, it's not your normal fetish like latex and leather and stuff like that, but shining and gleaming gadgets and gizmos.
this time, the wired staff portrayed the toyota volta, a hybrid concept car. the volta is the bigger and much much spiffier brother of the toyota prius, which is a really big hit in the us.
i presume that hybrid cars are the only way electric cars are ever gonna be popular. (heck, even gearbits loves it :-)
a hybrid car is – for all those that do not know – a car that has both a conventional engine and an electrical engine. both share the work, the electrical engine all the work where a conventional one is not good, e.g. accelerating and small burst of power, and the conventional engine comes to help when maximal power is needed, like on auto-routes. thus, such cars manage to be really fuel-efficient and environmentally safe (at least many of times safer than a normal car) while leaving the man or woman behind the steering wheel with the experience of a real car, so no charging of the battery or searching for that hydrogen filling stations.
and hey, who could argue with a sports car (0-100 km/h in 4 seconds) that uses only 1 liter of fuel on 100km? (and is named after a famous physicist :-)
oh, and by the way, i'm not really a car-fan, this is just as geeky as it can get…