this week it's actually not a picture of the week, but a movie of the week.
today a friend of mine visited me, because her laptop was unable to connect to the intaweb.
after some probing i found out that she must have gotten a virus, which clogged her connection to the net, spewing itself out to all the people in her address-book.
so i decided to install a free antivirus software for her (downloaded that excellent software to my mac, transferred and installed it on her pc) and scanned for viruses, since her norton-antivirus refused to work (also because of the multiple viruses she caught.
on the first run the software found 1500+ infected files, cleaned them, but refused to finish its process. on the second run (after a reboot) it found 5000+ infected files. the scanner can be configured to make an audible beep each time a file is cleaned, so you get that funky soundeffect in the file below (3mb .mpg-file).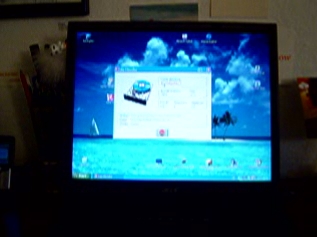 oh, and by the way, barbara already regrets that she switched the wrong way (from mac os 9.x to winXP) :-)