today we went geocaching.
my flat-mate wrote about that fun activity in the local newspapers (wolf obviously works there).
geocaching? what's that?
someone hides something somewhere and you go and find it, it's that easy :-)
you need a gps-reciever and some information from geocaching.com (or the swiss equivalent), look for the spot you want to get and then you just start.
wolf wrote about the cache hidden near the guggershörnli, so we wanted to go and discover that cache called "guggershorn hut" hidden by Admiral Whitetrousers.
here's how we did it: i went to transa and rented an eTrex Legend (it's not actually for rent there, but i used all my charme :-)


then nina and me took the train to schwarzenburg and from there a postcar (the tiniest one i ever drove in!) up to guggisberg. there we started the gps-reciever and found out that we're about 1.8km away from the cache.


it was not that hard to go into the right direction, the hard part was, that it snowed pretty much the whole day yesterday and that today only one person was on the guggershörnli before we came, so when we arrived there our pants were already full of snow and our toes were ready to break off (we were there without high-mountain-tour-adapted material :-)
on top of the guggershörnli we admired the beautiful view, but the gps showed that the cache is still about 300m away, so off we went.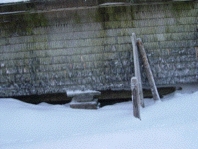 some slippery steps later we saw the place where the cache must have been, but the problem was that the way was heavily snowed in (up to the middle of my thigh) so nina made a break at the sun and i went looking for the cache. because of the snow i wasn't able to find the cache (wolf told me just minutes ago where it was, it would have been soooo easy.) so the whole expedition was not that successful, but it was a wonderful afternoon.


thank you for spending that wonderful afternoon with me, darling!