my wintercurry (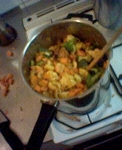 ) doesn't look like the one in the recipe (german only), but was really really really tasty none the less.
and the guys and gals at work liked it a lot, so if you do not know what to cook tomorrow, this is a good one to try.
btw: wastun.ch sends you a nice recipe to try out each and every week.
they call the recipes "open source", because all the recipes are special recipes from users who send them in.
so most of the recipes have a really original touch, use some special ingredients (or do you ever use celery rods for cooking? me neither, but the risotto was fabulous.).
if you look at the titles of all the recipes most of them have a special twist and are good to spruce up your in-the-head-cook-book.