how good do you know famous people?
how good do you know them when they're reduced to some pixels?
download this excel-file (256kb) and see for yourself!
(open the file, then insert the names. watch for the the's, e.g. "a-team" is wrong while "the a-team" is correct.
yes, they're really there)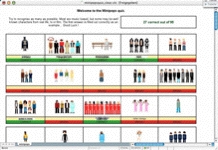 i managed to recognise 19, but with sigi's suggestions we managed to get 27 of 95 right. (i'd never ever recognized the corrs and simon & garfunkel).
how much do you get right? leave a comment!
btw: perhaps you wonder how i got that file?
no, not from flipflopflyin, where all the minipops come from (and david with one long arm, too) but through pure coincidence!
yesterday evening i was trying out some tiny urls:
– my tiny url leads to a 404-page
– my sisters tiny url leads to a .dmg of some program to vectorize images.
– my girl's tiny url leads to the times online.
– and sigi's tiny url leads to the aforementioned file.
see? pure coincidence!