i just returned from a very cool alleycat in lausanne. normally an alleycat is about 30km "go as fast as you can".
Blaize from velocite made that one different: there were 6 pickup places around the place de l'europe in lausanne (which were in a diameter of maybe 400m). at the start you got a list that was maybe 1-4-5-2, so you had not only to drive fast, but also think hard on how to go and pick up the "parcels" (which consisted of rubber stamps), then when you finished that list, you got another one, then another one, and so on until you finished seven lists.
and guess who finished first of all twelve messengers that were there and got that nice t-shirt that Blaize made himself?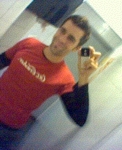 me.